The newspaper throws his love on Bornholm with 10 full pages. Bornholm is currently promoting within Denmark to attract more Danish tourists.
Hammershus, Christiansø, Kalas Ice, Dueodde, Cliffs of the Sanctuary, Bornholm on Wheels (Jan Gildam's food truck), Melstedgaard Outdoor and Agriculture Museum (Gaarden), Bison in Almindingen, The Red Warehouse restaurant, Stavehøl Waterfall …
The newspaper Politiken lists "10 temptations on Bornholm" in its Sunday edition.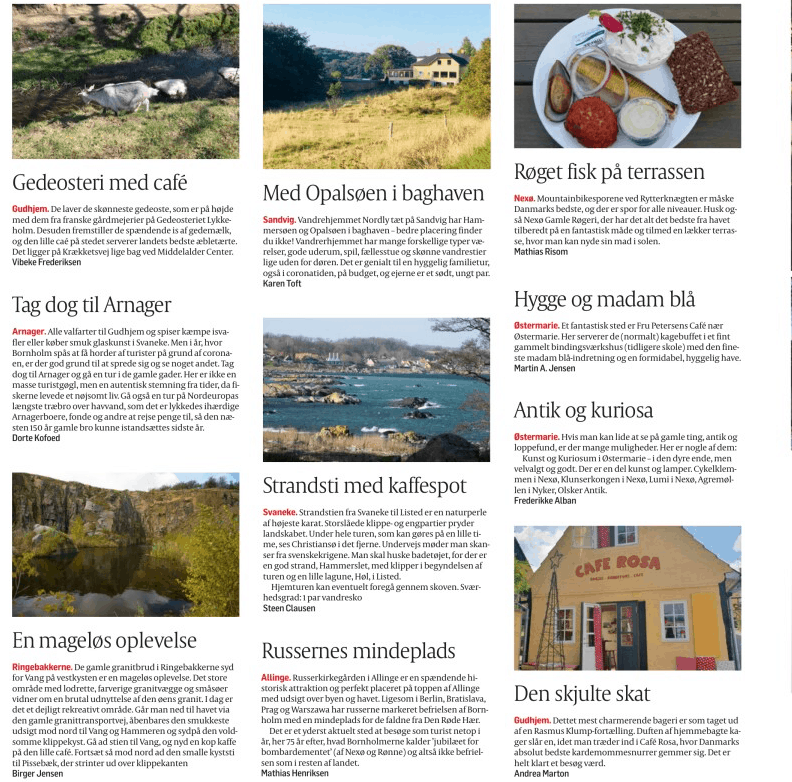 This is done in the newspaper's travel supplement, which contains "Focus on Bornholm" and contains no less than 10 full pages about Denmark's easternmost outpost.
The travel and stay of the policy were paid for by Destination Bornholm, and the articles tell of well-known and lesser-known experiences that guests should enjoy.
Each week, a reader is honored who has answered the call to send a good tip to the Politics travel department, and in this Sunday edition, Dorte Kofoed wins a book entitled "Die Reise geht nach …" for this tip:
"But go to Arnager
All pilgrimages to Gudhjem and eat huge ice cream cones or buy beautiful glass art in Svaneke. But this year, when hordes of tourists are expected in Bornholm due to the corona, there are good reasons to spread out and see something different. However, go to Arnager and take a stroll through the old streets. There is not much tourist fun here, but an authentic atmosphere from times when fishermen led an exact life. Also take a stroll on Northern Europe's longest wooden bridge over sea water, for which stubborn residents, foundations and others raised money so that the almost 150-year-old bridge could be renovated last year. "
This is what it looks like online:
https://politiken.dk/rejser/ferieidanmark/art7787079/Her-er-10-fristelser-p%C3%A5-Bornholm