Esmark Vacation Home Rentals
Here you can book all Esmark holiday homes. You will find Esmark holiday homes here, for example in Blavand, Sondevig or Veyers and Houstrup, but also Henne Strand and Hvide Sande and other places.
Esmark – The Danish holiday home rental company
A vacation in Denmark gives you complete freedom. Here you are the master of what will happen on vacation.
You can take the freedom to experience the tranquility of the Danish west coast, pamper yourself and relax completely: eat local strawberries and enjoy a glass of white wine on the terrace – soak up the sun and color on the beach – or take a walk in the open expanses of the dune landscape. Take a vacation in an Esmark holiday home.
But maybe you like more active holidays? In this case, the Esmark holiday apartments in Denmark also offer you numerous possibilities for exploration: You can cycle on the exciting routes of the region, surf on the fjord as well as on the sea or spend a day on the local golf course.
Therefore, Esmark holiday homes are designed for those who need to equip themselves as well as those who want plenty of activity options during their vacation.
Excellent reasons for a vacation on the North Sea coast
Esmark specializes in vacation homes on the North Sea. There is nothing better than a summer vacation by the sea. The sound of the waves, the sand under your feet and the sun on your skin are unsurpassable. Besides, there is so much to experience here. From a marine biologist who will explain the next sea dive to an acquaintance who is outfitting his kayak. North Sea and sea is just the thing for a relaxing vacation on the beach. The North Sea has more of a quiet and secluded environment. If you decide to relax at the North Sea, then you will be able to enjoy more tranquility, because there are practically no insects and a healing salty air.
Vacation homes very different
What we are looking for in a holiday home is very different. That is why the experts at Esmark offer an abundance of diverse holiday homes. While some Esmark cottages are decorated in a classic style with thatched roofs, others are more modern. In addition, the summer houses offer different amenities, different levels of luxury as well as different sizes and price ranges.
You will find small Esmark holiday homes that are designed for holidays with romantic couples, larger holiday homes that are suitable for friends and families with children, and very large holiday homes that are perfect for group trips.
The houses are equipped with and without facilities such as pool, sauna, spa, enclosed terrace and fireplace. The wide range of 2900 Esmark holiday homes in Denmark ensures that you will find a holiday home that exactly suits your location, style, amenities and budget.
NOTE: Do you have a dog? Then you have the option to take it on vacation when you rent one of our pet-friendly cottages.
The main Esmark resorts
Esmark Holiday Home Rental is a fantastic company with a large selection of vacation homes on the Danish North Sea coast. They have a lot to offer with their homes and have a friendly team that is always willing to help. If you are looking for a place that looks great and has a great atmosphere, Esmark vacation home is definitely the place to book and these are the main places where the great accommodations for old and young can be found.
Esmark vacation homes in Sondervig
When I think of Sondervig, I think of the beach. Sondervig is one of the oldest bathing places in Denmark and is highly appreciated by many. For decades, visitors from near and far have come here to find what they've been looking for: a long-awaited refurbishment. The museum building in the harbor, built in 1796 as "Nexøe Vagt", has long been a symbolic landmark.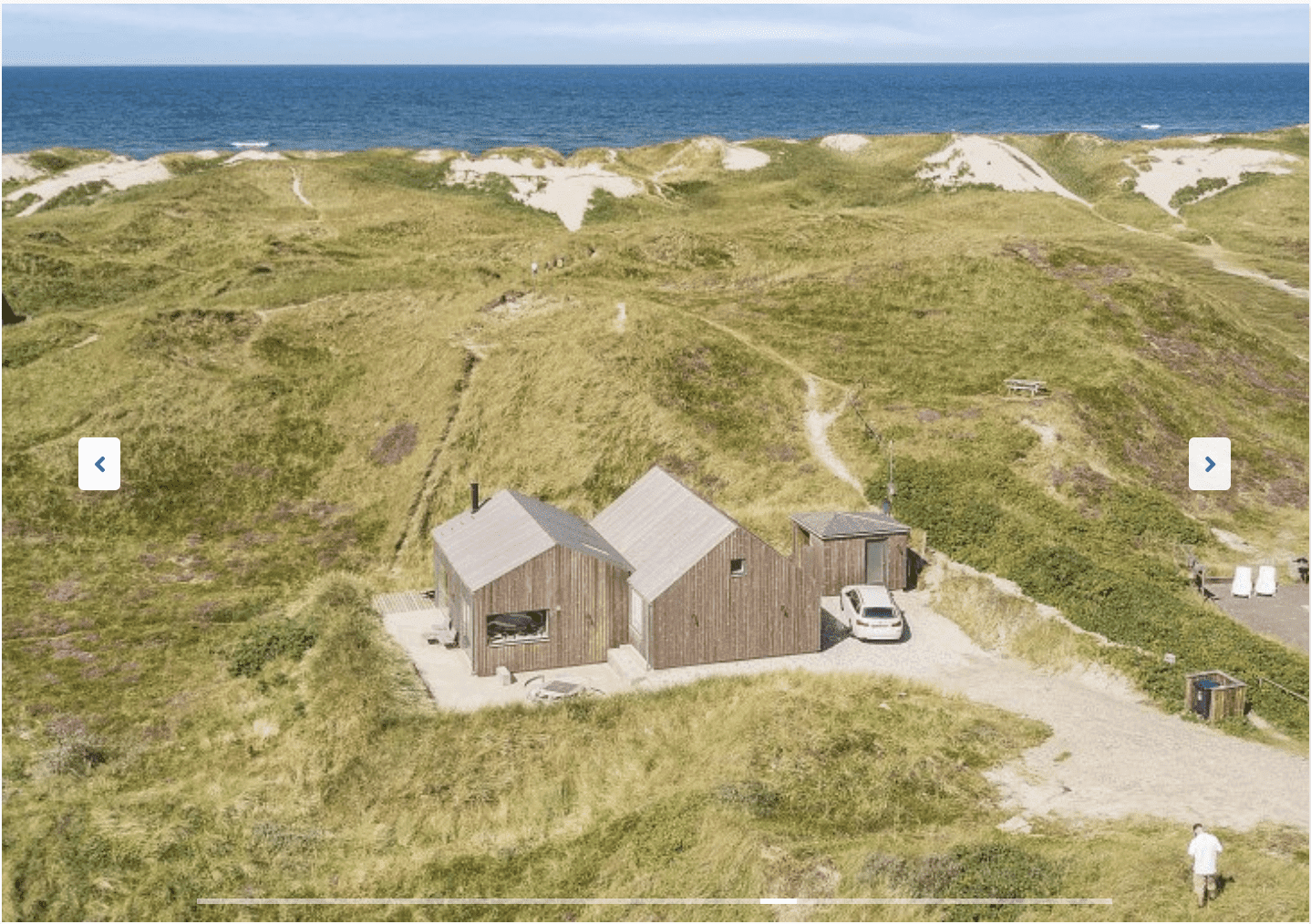 Esmark cottages in Bjerregaard
Bjerregard is a vacation home area in the Midtjylland region of Denmark, located about 15 kilometers south of Hvide Sande. The settlement is located in the extreme south of Holmsland Klit. Bjerregård today belongs to Ringkøbing-Skjern municipality. Until 2007 the cottage area belonged to Holmsland Kommune. As part of the area it is characterized by its proximity to the North Sea and Ringkøbing Fjord. Among the nearest places worth seeing are Nymindegab, Hvide Sande and Nørre Nebel.
Esmark vacation homes in Blavand
The vacation area around Blåvand offers 40 km of silky soft sandy beaches off the coast. Protected by the large sandbanks of the Horn Reef, which extends up to 20 km out into the North Sea, Hvidbjerg Beach is ideal for sunbathing and surfing. The first bathing jetty on the Danish west coast was built here in 2015.
Esmark vacation homes in Vejers
Vejers Strand is a Danish resort with only 65 inhabitants (2005), but about 1000 vacation homes. It is located in the region of Syddanmark, about 30 kilometers northwest of the city of Esbjerg and between the towns of Blåvand and Grærup on the west coast of Jutland.
Unique landscape and many attractions
Most of the Esmark holiday homes are located on Holmsland Klit: the stretch of coast where the North Sea meets the Ringkøbing Fjord. This means that you will find the most beautiful beach areas in the country as well as unique heather and dune landscapes right outside the door of your house.
Nature does it among other things. the area for a popular holiday destination for anglers. In a short distance you have the opportunity to fish in the sea as well as in the fjord and in several Put & Take lakes.
The unique nature of the Holmsland Klit makes the route one of the most popular holiday homes in Denmark. Each year the area attracts thousands of guests and you will find plenty of life in local towns like – especially during the summer months Hvide Sands , Søndervig and Ringkøbing.
You can therefore benefit from a visit to the towns in the area if you need a bit of a change from the peaceful nature. In the coastal towns you will find nice shops, authentic restaurants, historical museums and art museums – just as you can play bowling, golf, mini golf and much more.
In other words, a vacation in West Jutland is a perfect blend of beautiful scenery and local Attractions that determine the holiday – for both adults and children. There are also a number of popular excursion destinations that are easy to reach by car: for example the LEGOLAND theme park and the Givskud zoo.
When? High or low season
The seasons on the west coast of Jutland each have their own charm. While the summer months of high season are of course the most sought-after vacation time, you can also consider taking an off-season vacation. Here, the serene surroundings and harsh weather add to a different travel experience:
It could be a summer break for winter where you and your family are lucky enough to wake up to beautiful, snow-capped dunes – or a stormy fall vacation where wind and ocean breezes really hear.
Of course, the price for renting a holiday home is usually a bit lower in the off-season. At the same time, in some cases you will receive special discounts. In other words, you get more home for the money by renting your vacation home outside of the summer season.
Esmark – holiday home since 1965
Esmark Vacation Rental is a local vacation rental. We have offices in Søndervig, Bjerregård, Houstrup, Henne Strand, Vejers Strand and Blåvand. This ensures that we always have our finger on the pulse in the region.
Our experience goes back to 1965. We know the vacation sector as our own pocket and we know what service is required to make your vacation a success. That is why you are always in safe hands when renting your holiday home through our agency. Read more about Esmark.
When you rent your holiday home through Esmark, you also receive the following benefits:
Deposit: none (special rules apply to young people under 25 years of age)
Opening times: 24-hour security service (emergency service outside of office hours)
Internet: Free of charge in most holiday homes
Occupancy: SMS if the holiday home is ready for occupancy early
Departure: Flexible conditions (possibility to travel outside office hours)
When you pick up the key to your house, you will receive the same thing
Convenient arrival at Esmark, even in the evening or at night
If you arrive in the evening, after office closing time, it is no problem. They also come to the cottage like this. Either you will receive the code for a key box by e-mail or SMS. There is a key room at the Esmark Welcome Center near Henne Strand. The code for this is sent by SMS. With the code you can get into the room and take out your booking documents.
The envelope contains all the information for a great vacation.
Esmark experiences and reviews Trustpilot
Esmark is with Trustpilot an excellent review history. The value of 4.7 out of 5 is rarely achieved. This shows that you are on the safe side with Esmark. In the current situation, however, you should also know and pay attention to the cancellation conditions or travel cancellation conditions at Esmark. To do this, read the best Terms and conditions of Esmark precisely.
Esmark usually offers an accommodating voucher solution in the event of a corona-related no-show. You should know that in advance. But we Denmark fans travel as well as again. Perhaps this is an opportunity to secure a dream home in the future and look forward to it for a long time.
You can also use the Esmark Facebook Appearance or the Esmark Instagram Visit Page to share experiences with other guests.
Esmark: What do you have to consider when booking?
When you rent Esmark Ferienhaus, you can also book a linen package, handcart, high chairs and cots and even a freezer at the same time. You can pick up the booked items from the Esmark office or have them brought to you for a small surcharge.
>> Click here to go directly to Esmark's website
>> Dancenter holiday homes
>> Sun and beach holiday homes