List of all "sun and beach" holiday homes. Trust and years of experience. Here you can book sun and beach (Sog ol strand) holiday homes.

Sun and beach – holiday homes in Denmark offer wonderful holidays.
Sun and beach are constant companions on your holiday in Denmark during your holiday home. The holiday home provider Sonne und Strand is one of the top addresses when it comes to holiday homes in Denmark, especially in Jutland there are great holiday homes right on the beach so you can watch the sun rise on the terrace in the morning.
Especially in Blavand and Römö on the west coast (North Sea) there are great holiday homes right on the water with enough sleeping space, even for larger travel groups. Often with a money-back guarantee. You have to look in the terms and conditions.
Holiday homes in the sun and on the beach are usually sufficiently far away from the next holiday home, so that you get plenty of rest and relaxation.
Sun and beach – vacation with a good heart!
Welcome to Sol og Strand – one of Denmark's largest rental agencies, where we put the guest first. We want to be the landlord in Denmark who offers our vacationers the most unique experiences.
The holidays are a valuable break from everyday life, here the pace has to slow down, the stress has to be out of your body, you have to find peace and you have to enjoy the present and time together. At Sol og Strand Feriehusudlejning, we know that vacation is important and that the setting has to be in order. We want to help you get the best vacation in Denmark.
For more than 40 years we have been helping our guests to find the perfect holiday home or holiday home for the Easter holidays, summer holidays, extended weekends or one of your other important holidays – and of course we would like to help you find this house or apartment that is just right is for you.
If you choose a holiday apartment with us, you have automatically taken out free cancellation and home contents insurance. We call this insurance a "security package". So you can go on holiday in the hut, knowing that you are in particularly good hands and that you are secure both before, during and after your holiday.
Sol og Strand belongs to the fund "The Sol og Strand von Margit and Kjeld" – www.sologstrandfonden.dk – which supports charities and local organizations. This is how you make a difference for others when you book a holiday home with us – we call it "a holiday with a good heart".
Choose from thousands of attractive holiday homes
We offer around 6,500 vacation rentals in some of the country's most popular vacation destinations. We rent holiday homes for every taste, need and budget. At Sol og Strand Sommerhusudlejning we have a large selection of holiday homes.
Here you will find large holiday homes with space for the whole family and for several generations, pool houses, luxury summer houses, summer houses with sea views, summer houses for anglers, for the active family and for the enjoyment of life. We offer child-friendly holiday homes with high chairs, cots and outdoor play equipment. You will also find smaller and cozy holiday homes that are ideal for couples who want pure relaxation during their vacation.
The holiday rental is for the whole family and also for four-legged friends. So if you want to bring your dog with you, this is also an option as you can easily find a vacation home where dogs are welcome.
Your vacation is important to us
Our goal is to give you an unforgettable vacation with good and unforgettable experiences. The staff at our 21 local offices in Denmark are always ready to take care of you, whether you need a local tip or need help with your stay.
We constantly check the quality of all our holiday homes and thus ensure a high minimum standard and proper categorization. We know that cleaning is one of the most important parameters and that is why we have developed a new quality system to ensure that the house is thoroughly cleaned every time. Everything is clean when the sun is out!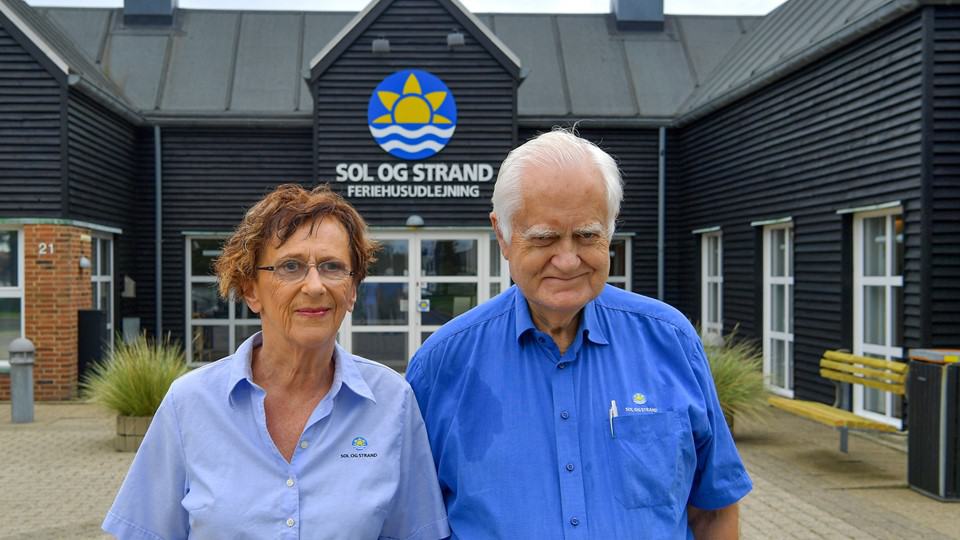 So book at Sun and beach or here and you book with a traditional provider with a lot of experience.