Camping on Bornholm
Camping on Bornholm is one of the most beautiful ways to experience the Danish island close to nature. The most popular camping region is the area between Dueodde and Snogebaek. There are several campsites next to each other. But there is also a small campsite right by the sea in Nexø, close to a fishing lake.
Camping in Balka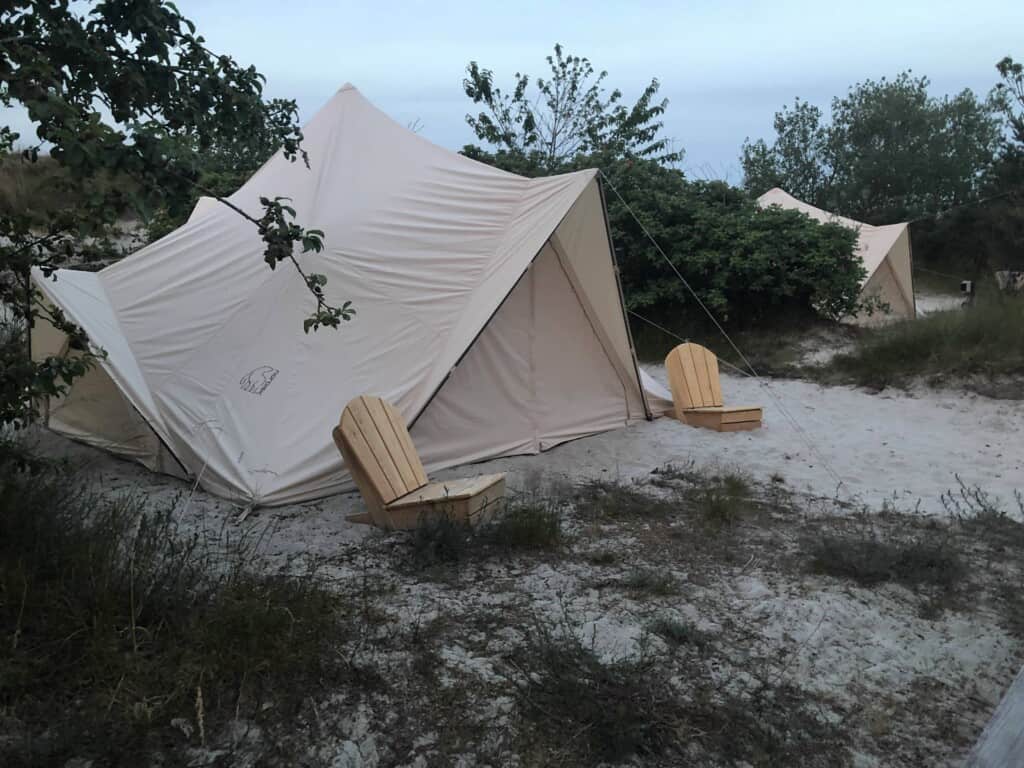 Balka does have a real campsite, but every now and then you can do luxury camping there, also known as glamping. Just do some research. In 2020, the tents were right behind the dune on the beach.
Dueodde Family Camping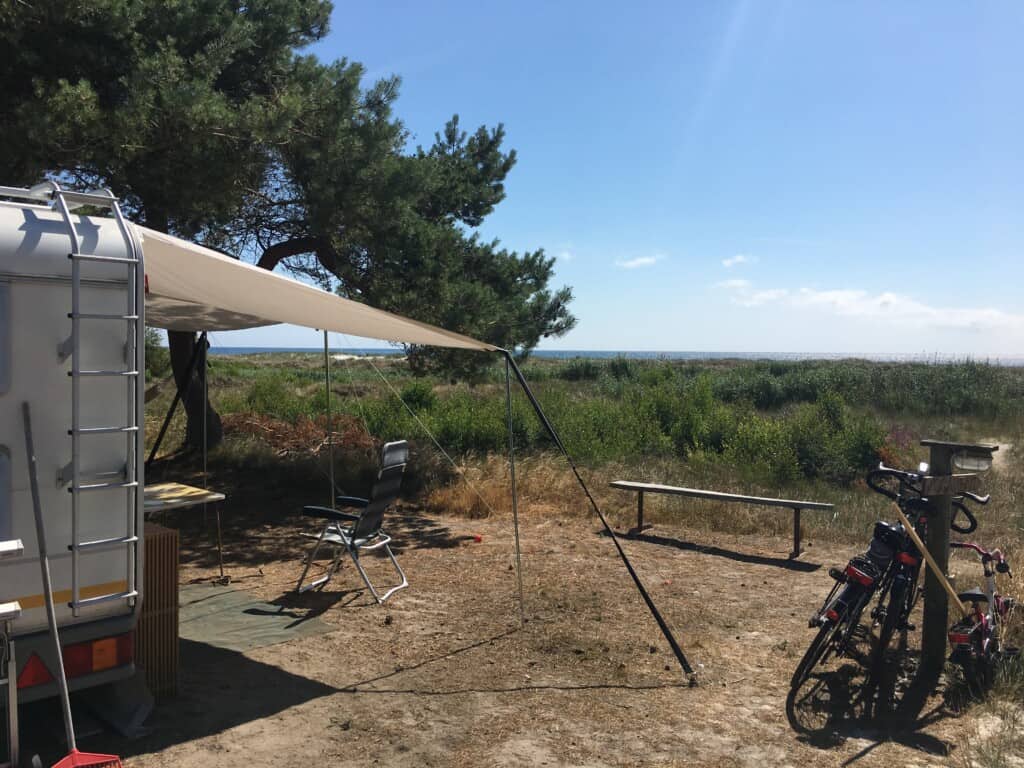 A campsite on Bornholm, like that of Dueodde is equipped with every comfort. The campsite is right on Dueodde beach, very child-friendly and in a very beautiful and protected nature area. Several tent sites are located in the car-free area directly on the beach with a sea view.
Family and nature property with a unique atmosphere, tranquility and beautiful landscape; After a stay here you can relax and unwind from everyday stress.
There is mini golf, table tennis, a large playground, jumping pillows, beach volleyball, grill tables, a smoking oven, a kiosk, a sauna, a solarium and a reception with TDC hotspot internet access.
The fantastic beach 50 m from the site is very child-friendly with the shallow water, the fine white sand and the cozy dunes for sunbathers.
There are also opportunities for fishing, windsurfing and other water sports right from the site.
Strandlunden nature camping
Strandlunden Naturcamping is located on the east coast of Bornholm, south of Gudhjem, near the idyllic fishing village of Melsted.
The place is unique with its own small beach, natural harbor, breathtaking rocky coastline and unspoiled nature with many species of birds, different vegetation, good protection and large, unnumbered places.
Fishing, diving, kayaking, swimming, hiking, running and biking, botanizing, and bird watching are all obvious outdoor activities.
Well-kept, comfortable and good facilities, incl. Washer and dryer. In addition, table tennis, playing field, playground and beach volleyball. Nearby there are golf courses – tennis courts and a swimming pool. The bike path and hiking trails start at the square, and the distance to the bus stop is around 150 meters away: fishing, windsurfing and other water sports right from the square.
Holiday park Storløkke
The Storløkke holiday park is located in the north-west of Bornholm, near the so-called twin towns Allinge-Sandvig. Storløkke Feriepark is not only aimed at couples, but above all at families with children who need a nice vacation without work, day care centers and school. At Storløkke Feriepark you can relax in the picturesque surroundings of Storløkke Feriepark. Of course, you can also use the facilities at Storløkke Feriepark or take a trip to the beach.
Storløkke Feriepark has an outdoor swimming pool with a special children's pool, an outdoor tennis court and a playground where the youngest family members can easily spend several hours. From Storløkke Feriepark it is not many minutes' walk to the beautiful sandy beaches on this part of the Bornholm coast. So you can easily use your stay at Storløkke Feriepark for a beach holiday.
At Storløkke Feriepark you can choose between two types of holiday homes. Storløkke Feriepark therefore offers apartments of type 2 (40 square meters, 2-4 people) and type 3 (50 square meters, 4-6 people). All holiday homes at Storløkke Feriepark have an enclosed terrace with garden furniture.
Aakirkeby Camping
Aakirkeby Camping is a small, cozy urban campsite with really good 3-star facilities. The place is sunny, surrounded by forests and therefore offers sufficient protection.
The campsite is centrally located on Bornholm, close to the city, forest and beach and is a good starting point for holidays, adventures and excursions by bike or on foot.
Kiosk with freshly baked morning bread
• Large terrace with barbecue area
• Lounge with TV and dining area
• The shared kitchen with oven, microwave, refrigerator, saucepan, pans, etc.
• Hair dryer in the bathroom
• Baby and family bathrooms
• Laundry room with dryer
• Playground with retro play
• Rental of various games
• Boules game
• Mini golf – 12 holes
• Fisherman's table
• Rental of hiking sticks
• Bicycle rental
• Rental of bed linen and towels
Nexø family camping
Nexø Familiecamping is the only campsite on Bornholm that is right on the water. Enjoy your vacation near the Baltic Sea, Stenbrudssøen, forest and meadow. You can swim on the indoor rocks a few hundred meters from the site – or on the sandy beaches south of Nexø. The place is located in the city zone and is only a few minutes walk from the port, the center with shops and 4 supermarkets that are open every day of the week.
There is a small bathing jetty at Nexø Family Camping. You can swim or fish here.
A few hundred meters from the square are two former quarries. Little of it is used as a bathing lake, which gets hot at the beginning of the season. Half of it is 30-100 cm deep – the rest is very deep. But you have to bathe under supervision – the water stands still.
The sandy beach begins immediately south of Nexø. The seaside resort of Balka is 3 km south of Nexø and has a very child-friendly beach.
The children have the opportunity to run around in the exciting playground of the place. We have darts, boccia, Viking games, table tennis, football games and a 12-hole billiards golf course for all children and child souls.
Campsites on Bornholm
Campsites in the south of Bornholm – sandy beach
Campsite in Svaneke: http://www.hullehavn.dk/
campsite Dueodde : Dueodde .dk / index.asp? mode = for! forside! de & sprogskift = true "target =" _ blank "> http: // www. Dueodde .dk / index.asp? mode = for! forside! de & sprogskift = true
Möllers Camping Dueodde : Dueodde -camp.dk/de/ "target =" _ blank "> http: // www. Dueodde -camp.dk/de/
Bornholms FamilieCamping in Dueodde : http://bornholms-familiecamping.dk/
Balka Strand FamilyCamping: http://www.balkastrand-familiecamping.dk/
Aakirkeby Camping: http://www.acamp.dk/
Campsites in the center of Bornholm
Nordskoven Rönne: http://nordskoven.dk/
Campsites in the north of Bornholm
Sandvig / Allinhe Camping: http://www.sandvigcamping.dk/de.html
Bornholm Camping is an inexpensive alternative if you want to save money on a holiday home or if everything is fully booked.
Some campsites offer to store camping equipment so that next year you can only travel to Bornholm with light luggage.