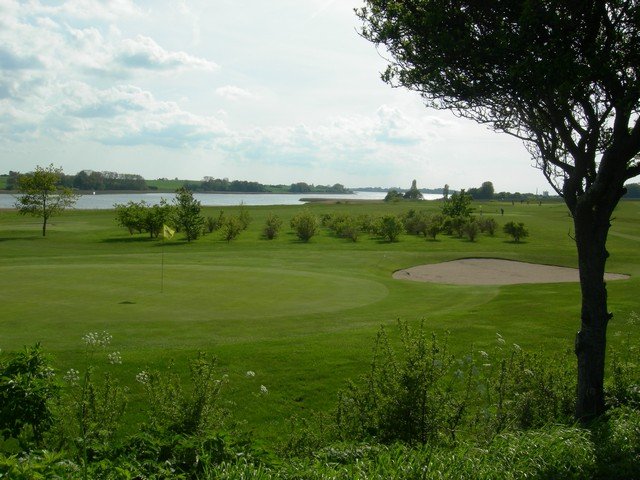 Where on the island of Møn can you play golf?
The fact that there are so many golf courses in the Scandinavian countries should be known among golfers. The fact that they are also very well maintained and sometimes very creatively designed are also well-known facts. On the tranquil holiday island of Møn, which is part of Denmark in the Baltic Sea, you will find a wonderful golf course with a wide range of options for all golfers.

The Møn Golf Center is just 150 meters east of the village of Keldby. The square of this center gets its individual touch from its location on the eastern edge of Stege Nor. This is a relatively large inland lake on the island of Møn, which is fed from the Stege Bugt (Stege Bay).
For which players is the course made?
In a nutshell: For everyone – on the Møn Golf Center course there are numerous offers for players of all ages and golfing levels.
There are special courses for children that can help them learn to play golf. However, this course is made for groups and includes providing the children with golf equipment as well as boarding and accommodation in the buildings of the center's tourist partners.
There are also courses for adults. These can be booked as a two-day or three-day offer. They include – similar to the children's courses – the equipment with golf equipment, food and accommodation. However, more emphasis is placed on theoretical instructions and instructions, but this does not mean that the playing time is too short.
In addition to the courses for young and old, there is of course the opportunity to go out onto the Møn Golf Center lawn as a guest player. The current tariffs for use and further information about the center and the course can be found at moengolfcenter.dk or you can inquire about them on 0045 55813260.
However, if you would like to devote yourself to a more specific golfing experience and would like to play the less well-known golf subspecies Krolf â € "called crolf â €" in German-speaking countries, you will not miss out at the Møn Golf Center. Although this mix of golf and croquet, which in local countries is played more with croquet or field hockey sticks, became particularly popular in Denmark, this course with this offer is rather an exception.
The exclusive offer of the Møn Golf Center is rounded off with the opportunity to play natural mini golf on the krolf lanes.
The Møn Golf Center is therefore prepared for all types of players, whether beginners or professionals, children or old people. Whether alone or in a group, whether mini golf, krolf or just golf – everything seems to be possible here.
There is also no special dress code. Shorts and T-shirts are just as permitted as exclusive golf clothing. However, you should – especially as a participant in a course or as any other beginner – make sure that you wear appropriate clothing for the sport, i.e. that you are flexible enough to be able to position, hit and pick up the ball. You should also wear comfortable shoes in which you can walk well.
Other services provided by the Møn Golf Center
In addition to the simple offer of being able to play on the center's lanes, there is – as already indicated – a golf school with courses of different lengths for beginners of different ages. On the moengolfcenter.dk website you will also find numerous accommodation offers from the surrounding hotels, campsites and bed-and-breakfast providers. Many of them with the respective websites, telephone numbers or other contact details.
The center also has a cafà © â € "the Møn Golf Cafà ©. This is checked every year by state roads (Fødevarestyrelsen) for its quality and has always received very good grades over the past three years. It invites regular players as well as guest players and course participants to strengthen themselves before, during or after a game.