The picturesque island of Mon in Denmark, known for its chalky cliffs, pretty little towns and relaxing atmosphere, attracts thousands of visitors every year. The island is relatively easy to reach, whether you arrive by car, ferry, bicycle or public transportation. This article will introduce you to the different ways to get there.
By car
About land
The island of Mön is easy to reach by car from Germany. A common route is via the A7 freeway heading north, which merges with the Danish E45. After that we continue on the E47 and E55. There are two bridges connecting Mon to the mainland – the Queen Alexandrines Bridge and the Farø Bridges – so no ferry crossings are required if you choose to travel entirely overland.
By ferry
There is also the possibility to travel to Denmark by ferry from Germany. There are two main ferry routes: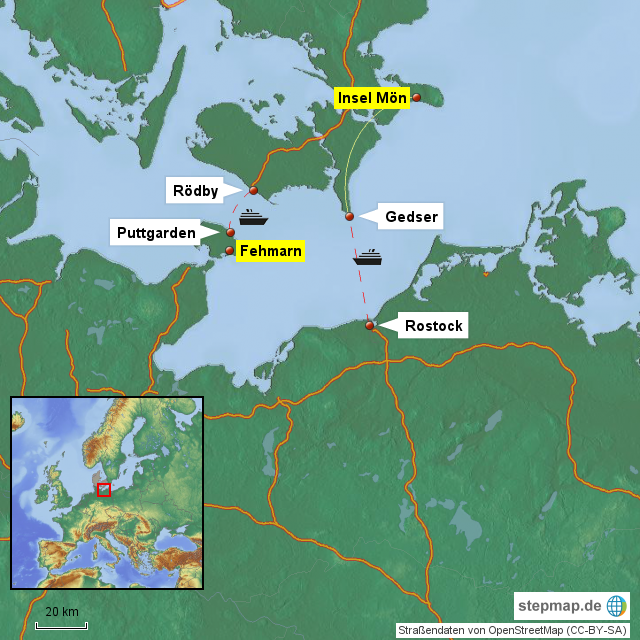 Puttgarden-Rödby: This crossing takes about 45 minutes. After arriving in Rödby, continue on the E47, which will take you to the island of Mön.
Rostock-Gedser: This ferry takes about 2 hours. From Gedser you will then continue on the E55, which will take you directly to the island of Mön.
By bike
The Danish island of Mön is also a popular destination for cyclists. There are numerous signposted bike paths on the island that lead to the most beautiful places. From Germany, the island can be reached via the Baltic Coast Cycle Route and the Berlin-Copenhagen Cycle Route. These routes are well signposted and lead through some of the most beautiful landscapes in northern Germany and Denmark. If you take the ferry from Puttgarden to Rödby or from Rostock to Gedser, you can easily take your bike with you.
With public transport
By public transport, getting to the island of Mön is a bit more complex, but quite doable. From Germany you can take the train to Copenhagen and from there take a regional train to Vordingborg. From Vordingborg there are buses that go to the island of Mön.
Alternatively, you can take the train to Rostock and from there the ferry to Gedser. From Gedser you can then take the bus to the island of Mön. However, note that these bus services are not very frequent, so you should plan your itinerary well in advance.
Overall, there are several ways to get to the beautiful island of Mon. You can choose which way is the most convenient and pleasant for you. No matter which method you choose, the scenic beauty and charming atmosphere of the island will surely delight you.