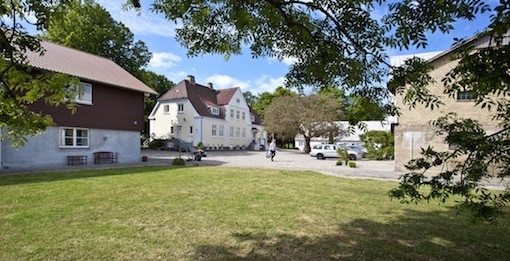 Contact, preferably in German
Phone: +45 2347 2106
Website: http://www.tiendegaarden.dk/de/
Rating at booking.com: "fabulous"
In the middle of cornfields and meadows, not far from Möns Klint and the Baltic Sea, is located one of the best Bed & Breakfast pensions in Mön – "Tiendegaarden Bed & Breakfast". If you haven't been able to relax before, you are sure to find yourself here. A unique peace and quiet lies over the landscape. You have to get creative here. Here you come up with new ideas.
So that you can enjoy this landscape, Susanne Nøhr has opened this family farm to visitors and offers a home for those seeking relaxation all year round.
You should feel at home here. There is a small kitchen with a fridge, bicycles for free use and the in-house library has extensive information material (including special maps) ready.
Incidentally, you can have breakfast in an old manorial room or on the sunny terrace with a wonderful view over Ostmön. By the way, if you wish you can also get a picnic basket, which you can enjoy, for example, in the hilly landscape around Möns Klint or on the beach at Klintholm Havn.
As if that weren't enough, you can also get wellness treatments at Tiendegaarden B&B.
The rooms:
From 250 DKK you can stay here in a Classic B&B room. Shower and toilet are across the hall. Those who prefer something more comfortable are well catered for with the Modern B&B room (with shower and toilet) for DKK 325 or the apartment for DKK 350.
For families there is the family room. The name is an understatement, however. Family apartment would be more appropriate. Four people can enjoy a holiday here very well. It won't be boring for children here. Especially the Geo Center Möns Klint is a MUST. We were there with our son (3 years old) all day. There is a lot to experience and learn here.
Recommended experiences
– Bike tours in the hilly landscape
– Visit to the island's capital Stege – You should definitely have lunch here at Slagter Stig
– Visit the Geo Center Möns Klint
– Klintholm Havn experience. The beautiful sandy beach is to the left and right of the place
– Shopping in Dagli Brugsen Markt – Here you can get the great beer from the island of Mön
Contact:
Phone: +45 2347 2106
Website: http://www.tiendegaarden.dk/de/
Booking request