Bornholm is booming. Bornholm is one of the top 10 regions in Denmark with the strongest economic growth in Denmark. Overall, however, the economic power is still low. There is particularly high growth rates in tourism with over 20% more holidaymakers and a fully booked island in summer.
The food industry is also benefiting and growing.
The growing number of holidaymakers is also causing logistical problems, fueled by the poor management of the new Bornholmslinjen (Bolslinjen) ferry company. The ferries are increasingly unpunctual or fail completely in light waves. The Bornholm companies that are dependent on punctual deliveries of goods, such as the handicrafts groan.
Since the ferries to Koge and Ystad are more and more fully booked, so the Bornholmers can no longer easily leave the island spontaneously, the call for the tunnel is now getting louder.
A first feasibility study was commissioned back in 2012. The government in Copenhagen also wants to save the high subsidies for the ferries. Over 50% of Bornholmer are in favor of building the tunnel. Originally, a unanimous decision by the Bornholm Parliament was planned for the OC to build. That should now be changed so that a simple majority is sufficient.
What does the tunnel mean for the people of Bornholm?
In the future, the people of Bornholm will be able to reach the Swedish mainland at any time in around 20 minutes and also work in Sweden. The Swedish and Danish languages are very similar. From Ystad the drive over the Öre Sund Bridge to Copenhagen is not a problem. One can imagine a toll system for refinancing the tunnel construction project.
What does the tunnel mean for vacationers
German vacationers will probably continue to use the ferries from Sassnitz on Rügen to Bornholm. A small part will certainly also use the tunnel from Ystad.
The biggest change will be experienced by long-established Bornholm holidaymakers. Due to the easier accessibility, the number of tourists will continue to increase massively. This makes an expansion of the overnight infrastructure and the transport routes on the island necessary.
You can experience a first foretaste of a full island this summer. Places like Gudhjem or Svaneke are really full. The old recovery effect is gone. I increasingly have to look for quiet corners or avoid the main season.
The trend towards the tourist-overcrowded island is reinforced by the growing number of cruise calls, which are pumping more and more day tourists into the hotspots (Hammershus, Gudhjem).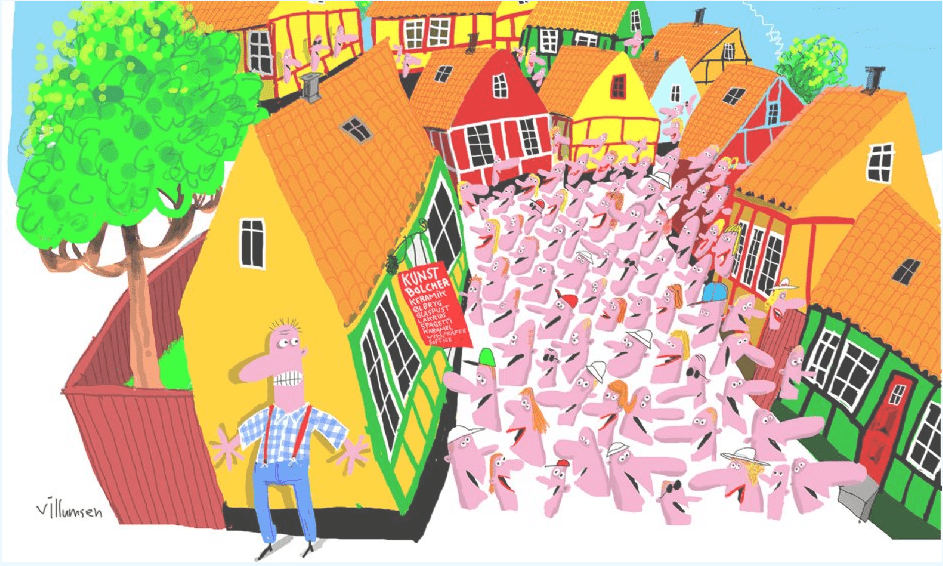 It is to be expected that Bornholm will share the fate of Rügen sooner or later. Real relaxation is no longer possible here, also thanks to the expansion of the Rügen Bridge and the B96 to the motorway.
We will keep an eye on the Bornholm tunnel project and of course also offer alternatives for holidaymakers who are still looking for peace and relaxation.